xata
Sep 17, 2013 at 04:29 pm
I came across this picture on Facebook yesterday. Apparently, the story behind it is that he caught his wife in bed with another man, and so, to punish her, he had her walk around the town naked.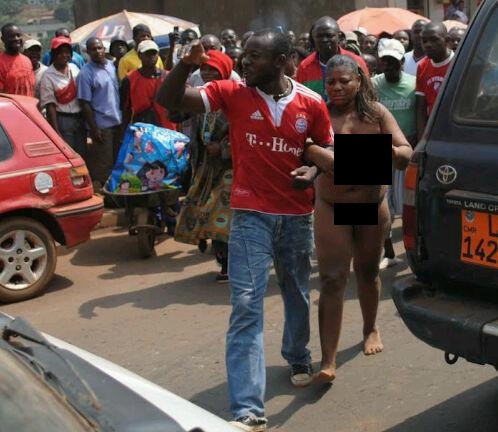 I believe it was a man who posted the picture because in its inscription, he wanted to know what women would say of it, now that the tables had turned (the cheat is a woman, instead of a man). Many people – male and female – condoned what this husband did, saying that the woman is a disgrace to womanhood (whatever the hell that might be these days), and saying that she got what she deserved.
See, I do not in any shape or form condone adultery, no matter who is doing it. But I tend to believe that when you are married, your spouse's shame is your shame, too. In other words, parading his wife around town naked is as much a shame to her as it is to him. We all have our deal breakers.
For me, infidelity ranks high on that list. I'd rather you just leave me, tell me whatever lie you want as your reason for leaving, but please, don't cheat on me. I know I have no right to say that I will not forgive this transgression – considering that I am a sinner myself, and everyday, I ask God to forgive me for the sins I keep doing over and over – but I am not God. Yes, I also know that in the eyes of God, this is not a valid argument.
I should, after all, aspire to be like Him. This husband is probably hurt in more ways than I can understand. His feelings are hurt. His pride is hurt. To find another man nestled deep inside your wife's most sacred part, it has to hurt like hell, but when you let everyone else see what should be for your eyes only, does it really make it better? I know, I know. The thing is already clearly being seen by others (or at least one other man).
But still. By the way, I do not feel the way I feel because the culprit in this case is a woman. I would not support a man being walked around naked because he cheated. But then again, that's probably not even an option, especially in a patriarchal nation like Nigeria. Of course, my views may change if said man is a hottie and I have been itching to see him less clothed. All in all, I pray that we never have to feel the pain of being cheated on. And I pray we never have to face the shame of walking around naked for cheating. P.S.The original picture was not censored. I had to put the black tape over her lady parts because there shall be nocompletenudity on this site. P.P.S.Considering that many women have gone the route of cutting the penis of the cheating man off, it is safe to say that being walked around naked is a much better – and less dead – option. No?

Dont Just Read And Leave, Pls Drop A Comment To Earn #5 and Make This Topic Move!.